Fleet of rental cars in Menorca
In Menorcarent you have a large fleet of rental cars with which to enjoy a family getaway, a romantic stay with your partner or a holiday with friends. Do you have a business trip nearby? Opt for a rental vehicle and move around the island at your own pace.
Our fleet of rental cars in Menorca provides you with a comfortable, professional, highly specialized, close and flexible service. It adapts to the needs of each client, since the delivery of the vehicle is carried out at the agreed point in each case.
Generally, management is done at the airport itself. Although it can also be specified at the address of the accommodation that you indicate.
Economic car rental group A - Low Cost
In this group you will find small and practical 5-door cars for daily use with easy parking and reduced consumption, the models are Toyota Aygo or similar cars.
Car Hire In Menorca Group B
In this group we have the most demanded cars in our fleet, they are ideal vehicles for driving around our island, with easy parking and low consumption.
Car Hire In Menorca Group B1
In this group, Menorcarent guarantees the requested model, since many of our clients, when choosing a Fiat 500, do not want a similar model. Very attractive retro looking car.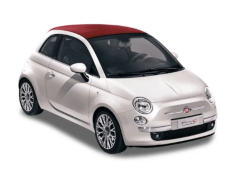 Car Hire In Menorca Group B2
In this group, like the previous one, we guarantee the Fiat 500 cabrio model, a practical car with low consumption but with little space for luggage.
Car Rental Abarth 595 Group B3
In this group you can have in your hands a vehicle in addition to a cabrio, with sequential automatic transmission, available model Abarth 595 145 hp
Car Rental 5 Seats Group C
In this group we offer medium-sized cars such as Opel corsa or similar, somewhat small size for 5 people and hand luggage. Handy for the island though.
Comfortable Car Rental 5 Seats Group D
In this group you will find an ideal car for families with a high trunk ideal for putting a baby stroller.
Car Hire In Menorca Group F
In this group you will enjoy a larger comfortable car for 5 people and luggage, they have good finishes and adjusted consumption.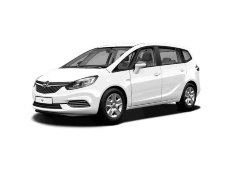 Car Hire 7 Seats Menorca Group G
In this group we offer a car model with folding seats for 5, 6 or 7 people maximum, the model is Fiat 500 L Living or Opel Zafira. Although they have a capacity for 7 people, we recommend a maximum of 6 to be able to carry your luggage comfortably.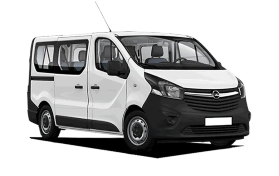 Car Hire 9 Seats Menorca Group H
In this group we offer a vehicle for 9 passengers, our available model is Opel Vivaro long model in which you will not lack space for luggage.
Automatic Hybrid Car Rental
172 / 5.000 Resultados de traducción Resultado de traducción In this group we offer you a model with automatic hybrid technology, achieving really low consumption. The available model is Toyota Auris Hybrid 140cv automatic
In this group we offer you two models of the Audi brand, a medium size type A1 and A3, the latter is automatic and larger, both have good finishes.
Discover our fleet of vehicles for rent in Menorca
Renting is an innovative formula from an economic point of view. You can make your personalized choice in our fleet of rental cars to reduce transportation costs during a trip.
The user drives a vehicle with an attractive design that passes periodic reviews. Therefore, it is a model that offers maximum security. This means of transport is aligned with the preferences, circumstances and priorities that arise in each trip.
The driver decides the destinations that he wants to visit during the itineraries that he discovers in the environment. He can also adjust the departure and return times for each excursion he takes in the area.
From Menorcarent we encourage you to consult our car rental fleets.
You can book the vehicle in advance to start using it within the indicated period. At the moment in which the delivery of the vehicle is managed, a contract is formalized that shows the agreement reached between Menocarent and the client. It is a service that increases savings during the stay on the island.
Keep in mind that the cost of the final amount is adjusted to the time during which the user has used the service, as is made clear in the contract.
Therefore, it is a highly demanded mobility proposal for short, medium or long-term getaways. We are sure that among our fleet of rental vehicles in Menorca, you will find the solution you need to move around the island.
A fleet of rental cars adapted to you
Menorcarent makes available to the client an extensive fleet of rental cars. We offer a wide variety of updated designs for trips as a couple, getaways with loved ones, or vacations with friends. In fact, in our catalog we also have vehicles that have 7 seats.
Enjoy a vehicle with an elegant design that provides maximum comfort during the journey and a high level of driving safety.
Menorcarent presents a varied offer with a highly specialized fleet of rental cars. This family business is a benchmark in the renting sector on the island of Menorca.
Search and find the manual, automatic or electric model that best suits your needs in our fleets of rental vehicles in Menorca.